Hong Kong Island
Mid-Levels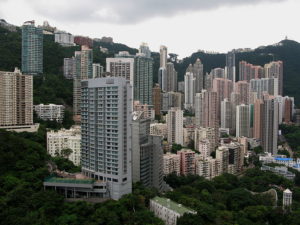 Mid-Levels is predominately a residential area located in Hong Kong Island. In Chinese, the name "Mid-Levels" literally means the area halfway up the mountain. It is an expensive area with a large concentration of luxury apartments. The area has always been appealing to expats, especially those with families, as most apartments are more space efficient and of a large size, the air quality is also better and sparse with greenery. The view from most apartments can often be spectacular, overlooking the Victoria Harbour, Wan Chai, and Causeway Bay.  Public transport is limited to mainly buses, minibuses and tax, most people prefer to drive instead.
– Close to Island, Peak, Bradbury, Hillside
Wan Chai 
A great place, and somewhere that is a bit of a mixed bag. On one hand, part of it is a red light district! Please don't worry too much about this – your hotel will actually be in this area, and it is the tamest, safest red light district in the world, and there are lots of great bars and restaurants there. Other parts of Wan Chai are very swanky and there are teachers who live in some great spots there. It is very central so good for that.
– 5 minute taxi to Bradbury, Hillside
Sheung Wan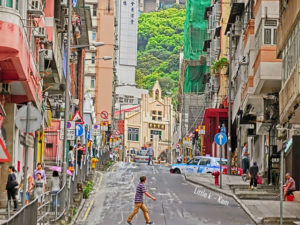 The Sheung Wan district is a traditional Chinese residential and commercia
l area located in the north-west of Hong Kong Island. Sheung Wan offers a large contrast to the modern central business district, which is just west of the area, and is more reminiscent of the older Hong Kong. Walking down the streets of the district, you can feel the history with many antique shops, dried seafood trading companies, bird's nest shops, post war low-rise apartments, and ancient temples. Sheung Wan is easily accessible by public transport, and is an extremely popular area among expats due to the proximity with the entertainment zone, Soho.
– 10 minute taxi to West Island, Kennedy
Happy Valley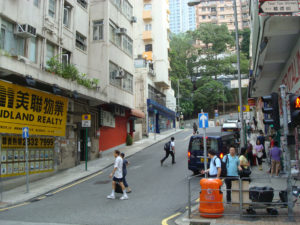 Happy Valley, part of the Wan Chai district, is a quiet and laid back area in Hong Kong Island. Synonymous internationally for horse-racing, the area is mostly residential and only 10-15 minutes walk to Causeway Bay, a busy shopping district, and not too far from the business districts. The public transport in Happy Valley consists on buses and trams. The absence of a train station has mixed blessings for the area, on race days the traffic can be a nightmare, but the absence of a train station has kept Happy Valley segregated from busy foot traffic.  There is a growing expat population in the area, and shops in the area have accommodated to the growing expatriate community, with a growing number of bars and restaurants.
– 5 minute taxi to Bradbury, Hillside
Pok Fu Lam 
Pok Fu Lam is a pure residential area at the we
stern end of Hong Kong Island. There are a significant number of expatriates in the area, often attracted by Pok Fu Lam's quiet, green environment. Pok Fu Lam is also home to has one of the most beautiful country parks in Hong Kong  – the Pok Fu Lam Country Park which consists of hiking trails and a reservoir. The area is not accessible by train; there are however bus routes that connect the area to the major districts in Hong Kong Island. Most residence choose to drive rather than take public transport.
– Less than 5 minute taxi to West Island, Kennedy
Kennedy Town / Sai Ying Pun

Kennedy Town (or Western HK Island including Sheung Wan and Sai Ying Pun) is the best of many worlds rolled up into one. It is chock-full of local culture and there are more types of restaurants within a 10 minute walk than you can shake a stick at. It is a 5 -10 minute taxi ride right into the middle of Central and another 5 minutes to Wan Chai, both places well-known for their western restaurants and being the heartbeat of night life in HK. There are hiking trails all around, although not as remote as the New Territories. If you want the city life, this is the place to be.
– 5 minute taxi to West Island, Kennedy
Very close to SIS, and with the same budget, flats at Ap Lei Chau will be more spacious with more facilities. The down side is that there aren't many restaurants, shops etc around.
There is now a brand new MTR line (South Island Line) that connects Ap Lei Chau to Admiralty, which makes transportation much more convenient in comparing to the old days.
– 10 minute taxi to South Island
Causeway Bay 
A very happening place, lots of restaurants and shops, quite Chinese (compared to the Mid-levels in Central where a lot of expats live, and you are lucky if you see a Chinese person). For some it is too busy, image the busiest place you can in a city like Hong Kong, and Causeway Bay is it! A place that is very popular to live near Causeway Bay, which is quieter is Happy Valley. It is not so well-connected by public transport, but people don't seem to mind this. 
– 5 minute taxi to Bradbury, Hillside
Kowloon
Kowloon Tong
Sandwiched between Mong Kok and Kowloon Tong, Yau Yat Chuen is in an area of low-rise apartments and tree-lined streets. Festival Walk, a large shopping centre with major clothing  and food outlets, is 10 mins walk in one direction and the many street markets of Mong Kok, 5 mins in the other direction. Transport links abound including MTR, buses and taxis as well as parks with jogging/walking tracks close by. There are some ESF owned apartments in the area that become available for rent from time to time.
– Walking distance to Beacon Hill
Tsim Sha Tsui
Tsim Sha Tsui, TST for short, is located at the tip of Kowloon. TST is more than just a district, it is a giant world bazaar flooded with an alternate sea of stalls, shops, markets and malls, making it a major tourist hub and shopping district of Hong Kong. In TST, you will find a high concentration of bars and restaurants of different cuisines. Many museums are located in the area as well. As TST is at the heart of Kowloon, it has an extensive transportation network, served by the train, numerous bus routes, and even ferries. The location is close to 2 MTR lines, and it takes only 3 minutes by train to get to Hong Kong Island, and about 10 minutes by ferry.
– 10 minute taxi to King George V, Kowloon Junior, JCSRS
Hung Hom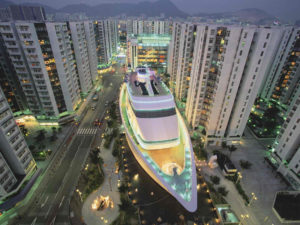 Located in the south-east of Kowloon, Hung Hom serves mainly as a residential district
consisting of many private housing and serviced apartments. It has an extensive
public transportation network where it serves as the southern terminal of both
the East Rail Line and West Rail Line, as well as the terminal of cross-border
services with destinations to major cities in China. Aside from the usual apartment buildings, there are several serviced apartment buildings in the area that are furnished and have complete amenities. Whampoa Garden is a commercial and residential community located in the heart of Hung Hom.  It has shopping centres, supermarkets, a cinema, many restaurants and recreational facilities.
"I've enjoyed living in Hung Hom for the past 4 years.  I felt I had easy access to the exciting city life that Hong Kong is known for, while also enjoying the quick accessibility to the countryside (New Territories) via the MTR .  It was especially convenient that I found a serviced apartment that was already furnished and didn't require paying a broker's fee."
– 5-10 minute taxi to King George V, Kowloon Junior, JCSRS
New Territories
Sai Kung 
Sai Kung, a former fishing village, has grown into a lively small town in the New Territories.  It is popular with expats and has a community feel. Sai Kung offers a wide variety of restaurants including seafood along the waterfront.  There are boats that can take you to  nearby beaches and it is close to the gateway to the Sai Kung Country Park.  There is a large Wellcome supermarket and a Park and Shop supermarket.  There are plenty of keep-fit/yoga classes available. There is a great outdoor swimming pool.  Sai Kung is a popular weekend destination for city day-trippers, so summer weekends can be busy.  Sai Kung is primarily served by bus and green minibuses, and it's about 30 minutes away from the closest MTR station. Larger shopping areas nearby include New Town Plaza, Festival Walk at Kowloon Tong and Kowloon Bay.  Sai Kung has a monthly English magazine which gives a good idea about what's on and where to go.
– 10 minute taxi to Clearwater Bay
Sha Tin
Located in a valley on both sides of the Shing Mun River, Sha Tin is one of Hong Kong's nine new towns which have been developed in phases in the New Territories since the 1970's. Many consider Sha Tin to be the most attractive of Hong Kong's new towns, with a mix of cultural attraction, riverside walks, parks and museums. Cycling has been a distinctive feature in Sha Tin, drawing many occasional riders at the weekends. The town is home to one of Hong Kong's two racecourses, and one of Hong Kong's largest shopping malls. Transportation is well developed making it very convenient to travel within Sha Tin and to other parts of Hong Kong.
– 5 minute to Sha Tin, Sha Tin Junior
Tai Po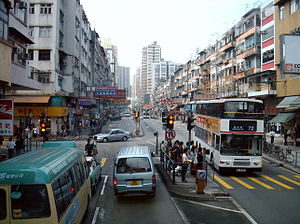 Tai Po is located in the New Territories, north west of Ma On Shan. Tai Po is an older 'new' town, so it has a bit of history and loads of character and charm, including an old market area. One of the teacher lives in an estate with fantastic clubhouse facilities, including a large outdoor swimming pool, sauna, steam room, heated jacuzzi, a well-appointed gym, and a children's play room. An estate shuttle bus makes regular trips to and from the train station, but it is just a 10 minute walk to the station. There are also village houses in Tai Po, which are usually further away from the train station and amenities, but provide larger living accommodations. It is up to you to decide the type of lifestyle you would be comfortable with in Hong Kong!
It is quite easy to travel to other parts of Hong Kong from Tai Po. For example, an express bus ride from Tai Po to Central takes about 50 minutes. There are grocery stores nearby, indoor and outdoor wet markets, shopping malls and specialty stores. Every Sunday, there is an organic produce market in Tai Po where produce grown locally and organically is sold. There is even an English-style pub in Tai Po called the King's Belly!
There are many places to enjoy the outdoors in Tai Po. The Tai Po Waterfront Park is a great place to jog, walk, and cycle. It also has several playgrounds for children. Bicycle trails connect Tai Po with Shatin and Ma On Shan. One RCHK staff rides his bicycle to school from Tai Po! Our favorite thing about living in Tai Po is living close to the Tai Po Kau Nature Reserve, an amazingly large reserve with hiking trails throughout with connections to the MacLehose and Wilson trails. Kadoorie Farm and Botanical Garden is also nearby, which provides another opportunity for hiking and getting to know local flora and fauna. In nearby Tai Mei Tuk, there is a government run water sports centre.
"We have lived in different places in Hong Kong – Lamma Island, Hong Kong Island, Clearwater Bay – and think that Tai Po is the best place to live by far! We enjoy hiking and being close to nature, and living in Tai Po provides us with incredible opportunities for enjoying the great outdoors."
– 15 minute taxi / 25 minute MTR to RCHK
Ma On Shan  
When we first saw Ma On Shan area, we knew straight away that it was perfect for our young children. There are plenty of parks, a mountain with world-renowned hiking trails, a beautiful waterfront promenade, and big open spaces. There are 7 major well-established apartments with clubhouse facilities for us to choose from. We also see many RCHK families when we go for our walk, when we do our grocery shopping, when we are at the park. This really make us feel a strong sense of community and belonging.
– walking distance to RCHK
Tai Wai
"Located at the head of the Shing Mun canal, Tai Wai is ideally located for easy access to rest of Hong Kong with great transport links with under 25 minutes to Tsim Sha Tsui.  At the weekends there is easy access to country parks, cycle paths and Shatin's huge New Town Plaza shopping mall is one MTR stop away.
– 15 minute MTR to RCHK
Outlying Islands
Discovery Bay 
Located on Hong Kong's largest island, Discovery Bay (or DB as it's commonly called) is situated just a 20 minute bus ride from Hong Kong's International Airport. Unlike most parts of Hong Kong, DB is pet-friendly. Transportation within the area is limited to only Taxies, internal shuttle buses and golf carts, and private cars are not allowed into the area. The community is surrounded by mountains and has numerous parks for children, and a large proportion of the residents are pilots and young families. It is 10 minutes from Sunny Bay MTR station, which is on the Tung Chung line that takes you all the way into Central on Hong Kong Island.  Discovery Bay is also connected to Central by ferry that run every 20-30 minutes throughout the day and night. Discovery Bay now offers the widest selection of Alfresco dining within one place in Hong Kong. Just ask around – there are many ESF teachers other than Discovery College, enjoying the sunny side of life in DB.
– walking distance to DC