There are a large number of excellent property agencies all over Hong Kong that can help you locate housing at market prices. New arrivals to Hong Kong need to be aware that estate agents charge for their services. Although the rates may vary, the standard rate is half a month of the agreed rental of your property. In order to secure a flat, you will typically need to provide 3.5 to 4.5 month worth's rent up front for holding deposit/first month's rent (1), security deposit (2-3), and agency fee (0.5). We suggest that you browse through the recommended websites to get a feel for the property size, location, and prices.
Following an initial view of the market, you should come up with a budget and decide on the requirements for your new home. It is essential that you communicate these clearly to your estate agent to avoid wasting your time, and setting false expectations. Be firm about the range of your budget as many agents like to show you property beyond your means.
#1. There are no agent who knows details on every vacant flat. If you are looking at different areas around Hong Kong (and you should), it would be good to approach separate agents (May or may not be from the same agency)
#2. You cannot view the same flat with multiple agents for commission reasons.
#3. Shop around and don't let the agents pressured you by making a hurried decision. You can always extend your hotel stay longer at a corporate rate.
All vacant Listing within Hong Kong by location:
Spacious –  http://www.spacious.hk/en/hong-kong/for-rent#.U9iid00cTcs
Gohome – http://www.gohome.com.hk/en/
Listing for all agencies in Hong Kong by location:
Square Foot – http://www.squarefoot.com.hk/find-an-agent/
Sunshine Property – Sai Kung, Clearwater Bay area(35% discount on agency fee)
Mr. Mathew Chung
Office: +852 29275000
Mobile: +852 9252 3323
sales@sunshineproperty.hk
Urban Properties – Mid-Levels, Pokfulam (10% discount on agency fee)
Mr. Waldon Chow
Head of Sales & Leasing
Office: +852 2522 0850
waldon.chow@urban-properties
Locations – All Hong Kong (10% discount on agency fee)
Maeve O'Rorke
Associate
Mobile: +852 6408 4227
maeve.ororke@locations.com.hk
Savills –  (10% discount on agency fee)
Ms. Edina Wong
Senior Director
Office: +852 2842 4283
ewong@savills.com.hk
Asian Express International Movers –  (10% discount on agency fee)
Relocation and Real Estate Service
Ms. Anna Klute
Corporate Account Manager
Office: +852 2500 7011
aklute@aemovers.com.hk
Asian Express Intl Movers – Offer for ESF
Links Moving 
Mr Mo Yuet Tin
Business Development
Office: + 852 3167 4029
moyeuktin@linksmoving.asia
2017 Promotion
Unigroup (10% discount on relocation cost)
Relocation Service
Mr. Edwin Sun
Corporate Account Manager
Office: +852 2418 4314 / Mobile: +852 9389 6838
edwin_sun@unigrouprelocation.com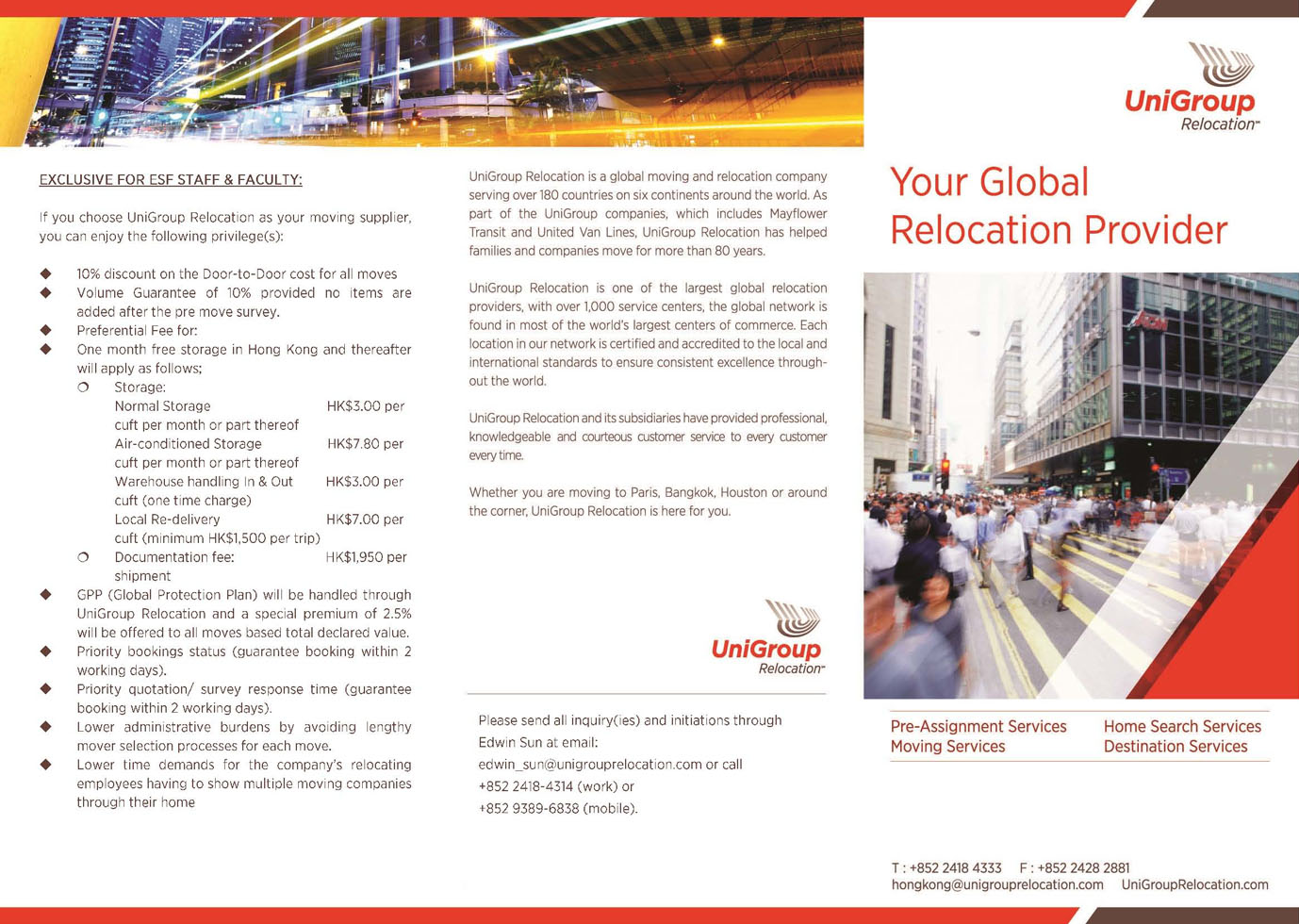 Service Apartments
http://ays.scmp.com
http://www.gohome.com.hk/serviced-apartments/en/?source=newhome
Please note: The above agencies are provided on a voluntary basis. ESF has no obligation on the enrolment rate or price level. Participation is at the staff member's discretion. Any payments incurred shall be bound by the staff member. ESF is neither an agent nor the representative of the above and does not accept any liability relating to the transaction of the purchase and the product or service itself.